Overview
Asking the right questions before hiring a content writer will save you time and money.
You'll want to touch on pricing, office hours, industry knowledge, SEO, ownership rights, and everything in between.
There are no right or wrong answers.
At the end of the day, the goal should be for the work relationship to be mutually beneficial.
Spend 30 seconds on Google, and you'll have absolutely no problem finding a freelance content writer.
(After all, in just the States alone, there were 57 million freelancers in 2019, and that was PRE-pandemic, mind you.)
The problem is finding one you can trust to do the work well and on time, especially if you have a strict budget and timeline.
Choose correctly, and you'll have a dedicated and driven partner who knows how to write and what to do to turn clicks into customers.
Choose poorly, and you could lose out on valuable resources (think: money and time).
Decisions, decisions…
As a content writer, I've been on the receiving end of that decision many times.
And based on what I've heard (and haven't heard), I believe asking these 11 questions before hiring a content writer will help you make the right decision.
From pricing to office hours, industry knowledge, SEO, and ownership rights, get it all out on the table before it's too late.
Your watch (and your wallet) will be happy you did.
11 Questions to ask before hiring a content writer
In no particular order, make your list and check it twice to find out who's cut out for the job and who's not.
1. How do you charge?
Again, there's no right or wrong answer here.
Depending on the work involved, content writers could charge per word, per hour, or per project.
Personally, I've done all three, but nowadays, I do per project pricing (as do many other content writers).
Not only is a flat rate more predictable budget-wise, but it also helps all parties involved focus on the outcome of the work.
Again, that's just me.
Please remember: Let the content writers choose their own pricing model. They know what they need to earn and how to stay afloat.
2. How much will you charge for XYZ?
Newsflash: More goes into quoting a project than just word count.
Be as detailed as you can with the brief. At a bare minimum, include:
Topic
Audience persona
Brand voice
Deadlines
Type (e.g. evergreen, thought leadership, link building, etc.)
Any other industry insights you think may be useful to complete the project

The more information you give upfront, the more precise the quote will be.
Also, you'll be able to get to work quicker as you'll cut out a lot of the back-and-forth endured when hashing out the fine print.
Hot tip: A lot of content writers offer a reduced retainer fee for projects of 6+ months.
3. What's included in your fee?
In the same light, one of the questions to ask before hiring a content writer should touch on what's included in project deliverables.
Writers may charge extra for:
Design directions (for a graphic designer to step in later)
Stock photos
Extended office hours
Unlimited rounds of editing
Uploading it to your content management system (CMS) of choice
Personalized content distribution strategy

Lay what you need/ what their price includes before things get awkward, and you start asking for more than what was quoted.
4. Are your prices negotiable?
DO NOT ASK THIS QUESTION. (Yes, I just threw a curveball here.)
I repeat, THIS IS NOT A QUESTION TO ASK before hiring a content writer.
If the price they quote is too high for your budget, you can do one of three things:
Find a way to pay them the extra money.
Walk away.
Ask for less work.

It's unfair to ask a content writer to lower their prices (or anyone in business, for that matter).
This puts them in an uncomfortable position and starts the client relationship off on the wrong foot.
Now that you know what NOT to ask, let's continue with questions you should ask content writers before hiring them…
5. How do you like to be paid?
Instead of imposing your preferred payment method on the content writer…
Open the topic up for discussion to arrive at a mutual agreement.
Speaking from experience, direct deposits, PayPal, and WISE (previously TransferWise) have always been headache-free ways for me to get paid.
It's also easy to do wire transfers and accept credit cards (easily charged through invoicing tools, like Wave, or payment processors, like Stripe).
Honestly, payment method should never be an issue in this day and age.
6. How comfortable are you writing for X industry?
Notice how that question doesn't read: "Have you written for X industry before?"
There's a common belief that you need to hire a content writer within your industry.
I disagree.
Sure, if you hire a content writer within your niche, s/he knows more about the topic compared to the average layperson.
However, experience doesn't guarantee success.
Instead, focus on the person who's writing the content.
How is their attitude? What's their work ethic like? Do they seem passionate to get started? How comfortable do they feel writing for this industry?
Make sure the content writer is a good fit, and then, work to train skills as needed.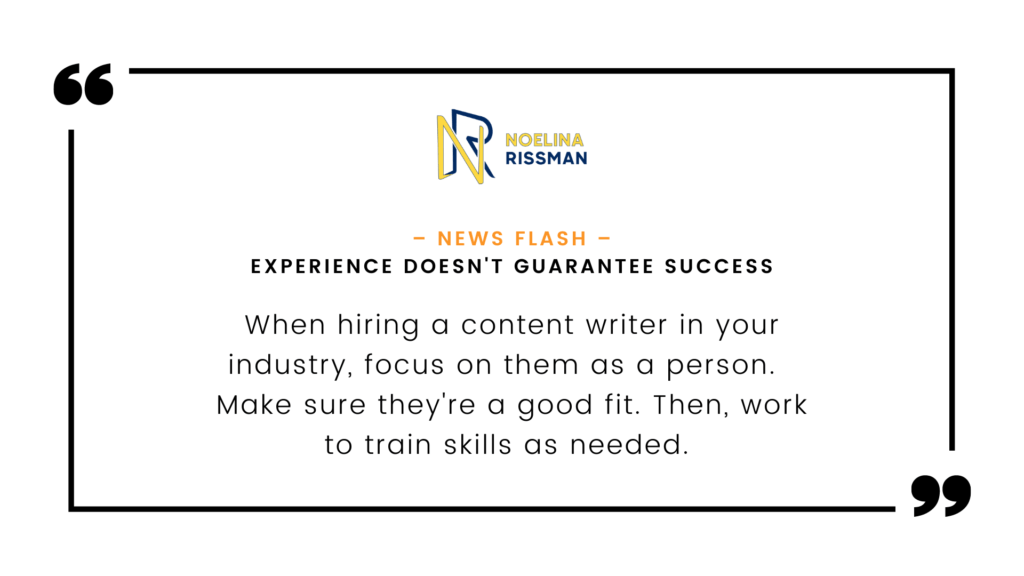 7. Can I see some samples?
Asking for samples lets you see if they can weave together info logically.
Preferably, you'll want to see published samples of the same type of work you need done (e.g. long-form B2B blog posts).
Nevertheless, be open to see original work that hasn't been published – like personal projects – yet still shows their expertise.
Either is acceptable!
As you're reviewing sample pieces, ask yourself:
Is this user-friendly? / How does it look? (formatting, header tags, etc. tell a story)
Does it match brand voice and style?
Is it tailored to the specific audience?
Does each section make me want to continue onto the next?
Did I finish reading the entire piece or drop off partway?
When/if I finish the piece, was my first impression "That was a good investment of my time" or "What the hell did I just finish reading?"
If samples don't tickle your fancy, or you still don't fully understand their process, ask for a PAID test project.
(Unless the writer is agreeing to pro bono work, you should never ask for free work. Just like negotiating prices, this is a big no no.)
8. Are you familiar with SEO?
Unless your business is writing just to write, your content should reflect best SEO practices, no matter the platform (social media included).
Here are some questions to ask a content writer about SEO before hiring:
Have you optimized content for SEO before?
How extensive is your knowledge? (on a scale of Yoast SEO to expert)
What is your process like?
Do you have results from past clients you can show me?
And if the content writer doesn't have any past experience with SEO, do you have the time/ resources to train them? How important is SEO for you?
Yes, it is possible for user-friendly content to rank in search engines without being optimized.
But, think of it this way: Optimizing for SEO gives you an additional leg up.
9. What's your process for starting a new project?
Experienced content writers (usually) never just wing it.
Before even touching a new project, content writers could ask for:
Details on audience personas (goals, pain points, etc.)
Brand tone and voice
Company resources that could help
To speak with the sales & marketing teams (when applicable)

If they say they don't need any information before beginning, run for the hills. (In other words, you're about to pay for generic content that likely won't convert.)
10. What are your office hours?
Asking about office hours pre-hire is a good way to clear the air around any communication issues that may surface.
Sometimes content writers have their own office hours. If they do, respect them!
(Don't be THAT client who messages at 1 a.m. on a Friday night…Yes. True story.)
On the other hand, if you need X number of hours to overlap with your schedule/ time zone, let them know.
Nine out of 10 times you'll be able to work something out to achieve flawless coordination. (Just like payment, I don't believe time zones should be an issue these days.)
11. Who owns the completed work?
This is arguably one of the most important questions to ask before hiring a content writer.
Will the writer have a byline on the content on your website? Will it be attributed to your team? Can they showcase the piece in their portfolio? Will the content be ghostwritten?
Whatever agreement you come to, make sure it's written in the contract before starting the project.
12. What else do you do?
Assuming all goes well with the written copy, you may want to hire out the content writer for other projects.
This will not only streamline your marketing efforts, but will also guarantee consistency in deliverables (brand voice, style, etc.).
For instance, I'm a content writer and strategist who helps businesses create AND distribute content online so they can get seen by the right people.
Clients who hire me for both services save time since I'm already familiar with the brand, and they don't have to onboard a new freelancer.
Work smarter, not harder, people.
Final thoughts
Asking these 11 questions before hiring a content writer should help you kick things off.
Yes, use them as a framework, but don't be afraid to play things by ear according to how the conversation is progressing.
After all, the content writer is human, not a bot.
Some more advice: Go by how you feel, too.
If something seems off about the content writer, but you just can't quite put your finger on it, take that as a cue to move along.
On the other hand, if you find someone who seems to be a good fit, and they're excited about the work, consider hiring them.
The more you diddle around in uncertainty, the longer you'll take to get work done.
Your turn… What are some of your go-to questions to ask before hiring a content writer? Let me know in the comments below!