Learn the Basics to Content that Connects and Converts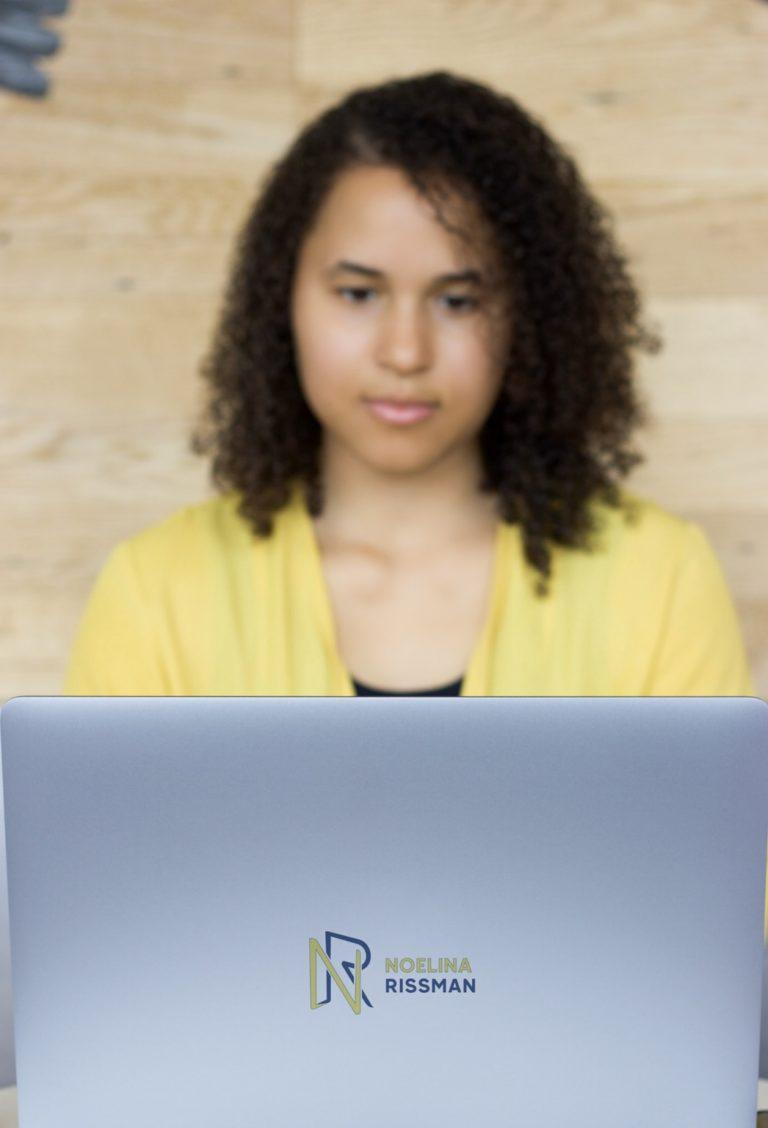 Shortly into my in-house career, I realized there's more to content than SEO and keyword stuffing.
Truth is, you can't push your way into people's wallets. And writing for bots will only get you so far.
🤷🏽‍♀️
So, I left my job and started freelancing to help B2B brands worldwide strategize and create clear, concise content… for humans 👩🏽‍🦱
The result? Content that connects and converts cold leads into loyal brand advocates.
Need a chameleon to guide your content efforts toward meaningful and profitable relationships?
B2B Brands I've Worked With
Have You Been Thinking?…
🤔 I can't figure out how to create content that converts. Is there a science behind it?
⏳ Content is time-consuming. We just don't have the bandwidth.
👩🏽‍💻 How do I stand out online in our noisy digital world? There's SO much competition.
You're not alone!
I Hear You, & I Feel You
Early on in my career, I also used to think getting content to convert was difficult, time-consuming, and not very rewarding…
This was when I worked full-time for a company that loved keyword stuffing, quantity over quality and doing things as "they've always been done."
We were doing everything we were "supposed" to:
☑️ Targeting competitive keywords to increase traffic
☑️ Optimizing for SEO at every step of the way
☑️ Publishing regularly on the website and social
(Pretty much all the standard content marketing stuff they tell you.)
The results?
🤖 Content that ranked on Google, but didn't increase our authority
🚫 No backlinks, social shares, or general buzz for the company
📉 Lots of time invested with little to no ROI
I soon realized our old-fashioned way of doing content wasn't working because…
Content that connects and converts needs to be clear, concise, compelling, and customer-centric.
⚠️ You can't keyword-stuff your way into people's wallets ⚠️
And writing for bots will only get you so far.
The Secret to Quality Content Is…
Truly understand your clients.
❓ What are their challenges and problems?
❓ What keeps them up at night?
❓ How can you help them along in their current journey?
When you can market yourself as the Advil to their pain,
answering all of their deepest worries,
and helping them along in their unique journey (not simply trying to sell them…),
your target audience will notice.
And notice they do…
Here's an example👇🏽
It was later repurposed as a LinkedIn post, where many B2B freelancers hang out.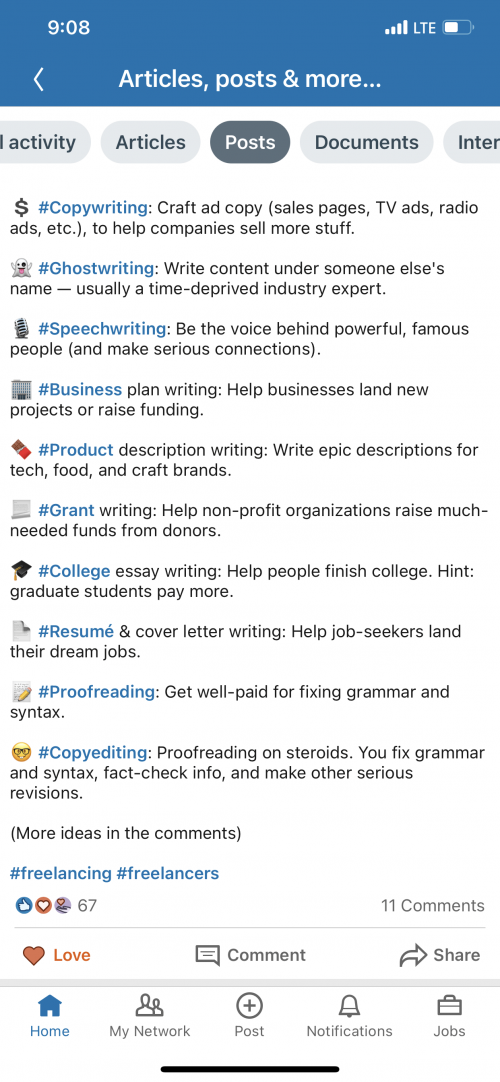 The reaction from the ideal audience? I'd say pretty positive. But don't take my word for it. Check out a few comments below.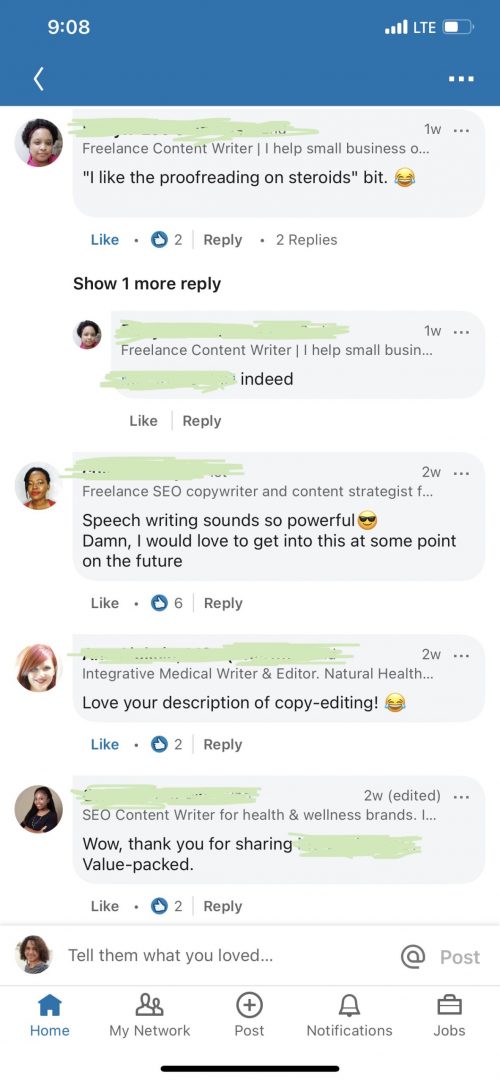 Pretty powerful stuff, right??
Anyways, getting back to the story…
So, I packed my figurative bags and left in favor of the self-employed world,
As a freelance B2B content marketer and copywriter, I help entrepreneurs, startups, and agencies create engaging content that leads to meaningful and profitable relationships.
And you know what?
Brands I've helped strategize and create content are:
👉🏽 Getting seen by the right people,
👉🏽 Building a name for themselves in their industries, and
👉🏽 Boosting revenue organically without the use of ads.
This is all while they get to focus on building their businesses,
Instead of spending time figuring out how to do content.
It's a win-win for all.
😍 
If you're ready to create engaging B2B content that connects and converts:
(Or if you'd rather learn a bit more about me, keep scrolling...)
On the clock, I'm the Content Marketing Manager for an early-stage HR tech startup, Pasito. 
But off the clock, when I'm not helping entrepreneurs, startups, and agencies with their content, you'll most likely catch me traveling around my current home, Peru
Got the Land of the Incas on your bucket list? Let me know. I love giving (usually unsolicited) travel advice.
But until then, let's continue the conversation about helping your brand get on the radar, OK?
Currently Noelina supplies copy and SEO help as a freelancer for my communications agency. She is able to deliver quality work in an efficient manner and often provides excellent suggestions of her own based on her knowledge of current trends.​
Noelina is an exceptionally hard worker with very good attention to detail and a wonderful sense of humor. She has strong written and verbal communication skills; can work well independently and with a team; and is extremely dependable.​
[Noelina's] writing is exceptionally strong -- clear, concise and creative. She is a persistent reporter and knows how to ask thoughtful, effective questions. She is responsible and punctual, and shows great respect for deadlines. I would hire her in a heartbeat!​
See how customer-centric content builds trust and increases sales